Does James 2 teach that we need works in addition to faith for salvation?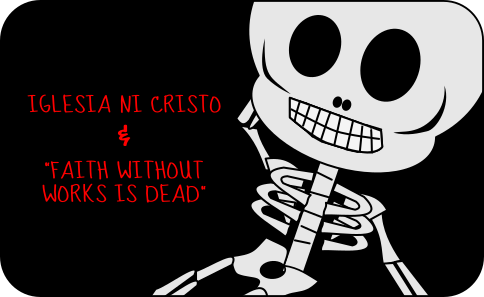 There are many verses that seem to teach we are saved through faith alone (Ephesians 2:8-9; Romans 4:4-5; etc.). However, some, such as the Roman Catholic church and the Iglesia Ni Cristo have doubted this and pointed in turn to James 2:17. Does James 2:17 really teach that you need more than faith in order to receive salvation? When we examine the whole passage, we find that it does not say this, but instead is explaining the proper place of works in a Christians life as resulting from salvation.
Claimed faith is not always real faith.
James 2:14 (ESV) - 14 What good is it, my brothers, if someone says he has faith but does not have works? Can that faith save him?
Firstly, it does not say that the person in question has faith. It says that they say they have faith.
Secondly, the question "Can that faith save him?" calls into question the faith of the individual. James is not saying that faith cannot save him, but that the faith he claims cannot save him.
A dead faith is not a real faith.
James 2:15-17 (ESV) - 15 If a brother or sister is poorly clothed and lacking in daily food, 16 and one of you says to them, "Go in peace, be warmed and filled," without giving them the things needed for the body, what good is that? 17 So also faith by itself, if it does not have works, is dead.
When James describes this workless faith, he calls it dead. He is not saying that this is a legitimate faith that is ineffective and fruitless. This is his way of speaking of an illegitimate faith. He calls this thing "faith", but it is not really a faith.
For an example of similar language, we can see that the apostle Paul called something that was not the gospel, "the gospel".
Galatians 1:6-7a (ESV) - 6 I am astonished that you are so quickly deserting him who called you in the grace of Christ and are turning to a different gospel - 7 not that there is another one
And he called something that was not hope, "hope".
Romans 8:24b (ESV) - Now hope that is seen is not hope. For who hopes for what he sees?
In the same way, James not talking about a real faith. The dead faith he speaks of is no real faith at all.
The one who does not have works cannot show their faith because they don't have faith.
James 2:18 (ESV) -- But someone will say, "You have faith and I have works." Show me your faith apart from your works, and I will show you my faith by my works.
James is questioning whether the one who does not have works has faith. He offers a challenge to those who say they have works, but have no faith: He asks if they can demonstrate that they have faith. Of course, they cannot. This proves that they don't actually have faith.
Real faith is more than acknowledgment of truth.
James 2:19-20 (ESV) You believe that God is one; you do well. Even the demons believe and shudder! 20 Do you want to be shown, you foolish person, that faith apart from works is useless?
In showing what a real faith is, James points out that the demons believe. Of course, the demons could never be said to have faith in Jesus. Therefore, he is not saying that more than faith is necessary for salvation. He is saying that real faith is not simply acknowledging some truth. Real faith is trusting and relying on the promises that comes from God -- something the demons do not do.
Abraham was justified through faith alone.
James 2:21-24 (ESV) - 21 Was not Abraham our father justified by works when he offered up his son Isaac on the altar? 22 You see that faith was active along with his works, and faith was completed by his works; 23 and the Scripture was fulfilled that says, "Abraham believed God, and it was counted to him as righteousness" - and he was called a friend of God. 24 You see that a person is justified by works and not by faith alone.
At first, this passage appears to be saying that Abraham needed both works and faith in order to be justified before God, but that is not what the passage is saying. It is saying that Abraham's work proved that he truly had faith.
Abraham offered Isaac on the altar in Genesis 22. However, Abraham believed God and it was counted to him as righteousness when he was promised Isaac (Genesis 15:6). Abraham's faith was counted as righteousness decades before he had the work of offering Isaac on the altar. He was not counted righteous because he offered Isaac. His offering of Isaac demonstrated before men that he was indeed righteous through his faith.
Anyone who really wishes to say that Abraham was justified before God because of his works, must answer to Romans 3-4, which describes how Abraham was justified. First, we see that no one should be able to boast before God, because we are saved through faith apart from works.
Romans 3:27-28 (ESV) - Then what becomes of our boasting? It is excluded. By what kind of law? By a law of works? No, but by the law of faith. 28 For we hold that one is justified by faith apart from works of the law.
Next, we see that Abraham does not have a reason to boast, because he was justified by faith and not by works.
Romans 4:1-4 (ESV) - What then shall we say was gained by Abraham, our forefather according to the flesh? 2 For if Abraham was justified by works, he has something to boast about, but not before God. 3 For what does the Scripture say? "Abraham believed God, and it was counted to him as righteousness."
Lastly, we see that this is true for all people.
Romans 4:1-5 (ESV) Now to the one who works, his wages are not counted as a gift but as his due. 5 And to the one who does not work but believes in him who justifies the ungodly, his faith is counted as righteousness,
Rahab was saved through faith.
James 2:25 (ESV) - And in the same way was not also Rahab the prostitute justified by works when she received the messengers and sent them out by another way?
Once again, the justification being spoken here is not one of right standing before God, but of demonstrating to men that her faith was real. Besides, how could she have done this work if it was not by faith?
Hebrews 11:31 (ESV) - By faith Rahab the prostitute did not perish with those who were disobedient, because she had given a friendly welcome to the spies.
Therefore, it is not that we need works in addition to faith. It is that a true faith will indeed produce works. True faith is what drove Rahab to give the spies a welcome and true faith is what drives Christians to live lives of holiness.
Conclusion
James 2:26 (ESV) - For as the body apart from the spirit is dead, so also faith apart from works is dead.
James is teaching us that real faith is characterized by works. The one who says he has faith but does not have works is a liar. Christians are to live lives of holiness and obey. However, that obedience does not produce salvation. Rather, it is the result of salvation.
Our works cannot earn us righteousness. Only the work of Christ on the cross can bring us the righteousness that makes us acceptable before God.