Does John 8:56 refer to judgment day?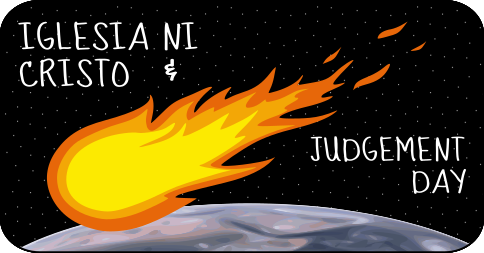 In an attempt to maintain consistent teaching, the "Iglesia Ni Cristo" teaches that Jesus' day in John 8:56 is judgment day.[1] Is that a correct understanding of this verse?
John 8:56 (ESV) - 56 Your father Abraham rejoiced that he would see my day. He saw it and was glad.
When we examine the verse and the INC's argument, we see that it is not a correct understanding.[2]
Jesus is not limited to a single day.
The INC teaches that because 2 Peter 3:10 refers to judgment day as "the day of the Lord", then we should also consider Jesus' day in John 8:56 to be judgment day. The problem with this is that it only allows Jesus one day of significance. For example, Jesus' hour was his crucifixion.
Matthew 26:18 (ESV) - 18 He said, "Go into the city to a certain man and say to him, 'The Teacher says, My time is at hand. I will keep the Passover at your house with my disciples.'"
The phrase "day of the Lord" often does refer to judgment day, but that phrase is not even used here. Jesus' day should not be considered judgment day so automatically.
Abraham was looking forward to the heavenly city and the advent of Christ.
The INC also points to Hebrews 11 to show that Abraham had a faith that looked forward to Christ. However, when he looked forward, he was not looking forward to judgment day. One thing Abraham looked forward to was the heavenly city of God.
Hebrews 11:16 (ESV) - 16 But as it is, they desire a better country, that is, a heavenly one. Therefore God is not ashamed to be called their God, for he has prepared for them a city.
Additionally, Abraham looked forward to the advent of Christ!
Hebrews 11:39 (ESV) - 39 And all these, though commended through their faith, did not receive what was promised, 40 since God had provided something better for us, that apart from us they should not be made perfect.
What is that thing that they did not receive that we have? It is Christ!
If Jesus' day is judgment day, then Jesus is God.
Who is the Lord in the phrase "day of the Lord"? It is YHVH! In verses such as Amos 5:18, which speak of judgment day, the divine name is used to speak of our Lord. If the day of the Lord is the same thing as that day of Jesus, then Jesus must be God.
How can the INC consistently hold that John 8:56 speaks of judgment day in the means that they do and hold that Jesus is not God? They cannot.
Conclusion
The INC's understanding of John 8:56 is lacking and inconsistent with their own teaching. It's hard to see it as anything other than a hasty attempt to refute those who claim John 8:56 speaks of the pre-existence of Christ.
[1] INC show about John 8:56,58
[2] It is difficult to discern what Jesus' day actually was, and therefore the purpose of this article is not to take a hard position on the matter. Perhaps it was his appearance at the oaks of Mamre. Perhaps it refers to the fact that Abraham remained conscious beyond his death. Regardless, this article will address the INC claim that this refers to judgment day.