Does Christ's glory demonstrate that he is God?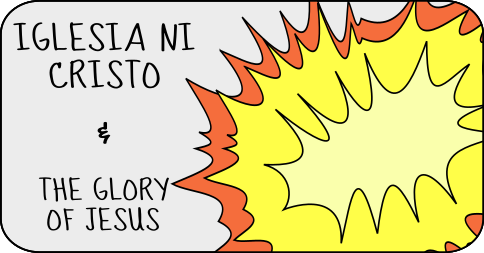 The "Iglesia Ni Cristo" teaches that Jesus is not God. However, Jesus is to receive glory and the Bible tells us that he shares glory with the Father. Does this demonstrate that Jesus, himself, is God?
When we look at what the Bible says about the glory of Christ and the glory of God, we see that it does indeed demonstrate that Jesus is God.
God does not share his glory with anyone.
In the book of Isaiah, God states multiple times that he does not give his glory to anyone else.
Isaiah 42:8 (ESV) - 8 I am the LORD; that is my name; my glory I give to no other, nor my praise to carved idols.
Isaiah 48:11 (ESV) - 11 For my own sake, for my own sake, I do it, for how should my name be profaned? My glory I will not give to another.
Given what God has spoken, we must admit that it would not be appropriate for him to go back on his word and share his glory with another. If God must only share glory with God, and with no one else. If we see the Father share glory with someone else, that other person must also be the one true God.
The Father shares his glory with Jesus.
We see that the glory the Father has is shared with the Son.
John 17:5 (ESV) - 5 And now, Father, glorify me in your own presence with the glory that I had with you before the world existed.
The scriptures go even farther in describing Christ's relationship to the glory of God. They say he is the radiance of the glory of God.
Hebrews 1:3 (ESV) - 3 He is the radiance of the glory of God and the exact imprint of his nature, and he upholds the universe by the word of his power. After making purification for sins, he sat down at the right hand of the Majesty on high,
This means that he not only shares in the fullness of God's divine glory, but he is the observable manifestation of that glory. The only way we can begin to comprehend God's glory is by observing Jesus. It also says that he is the exact imprint of his nature. If this is true, it means that we should understand Christ's glory as identical to, and identified as, the glory of God.
Believers participate secondarily in the glory of Jesus.
It's important to note that there are several verses about Jesus sharing glory with believers. For example, in John 17, we read:
John 17:22 (ESV) - 22 The glory that you have given me I have given to them, that they may be one even as we are one,
However, the glory which Christ has with the Father was natural. He had this before the world even began. That glory which Christ speaks of here is foreign to the followers of Christ. It was not theirs from the beginning, but dwells in them through Christ. They participate in that glory, but it is not their own divinity as it is Christ's.
2 Peter 1:2-4 (ESV) 2 May grace and peace be multiplied to you in the knowledge of God and of Jesus our Lord. 3 His divine power has granted to us all things that pertain to life and godliness, through the knowledge of him who called us to his own glory and excellence, 4 by which he has granted to us his precious and very great promises, so that through them you may become partakers of the divine nature, having escaped from the corruption that is in the world because of sinful desire.
It is through knowledge of the divine nature (2 Peter 1:2; John 17:3) that we may participate in that divine nature. Who possesses the divine nature? It is both the Father and the Son. They share this glory natively, and we may participate in that glory.
Conclusion
God does not share his glory with another, yet the Father shares his glory with the Son. Therefore, Jesus is God. The INC denies the glory of Christ when they deny his deity.