What is the gospel?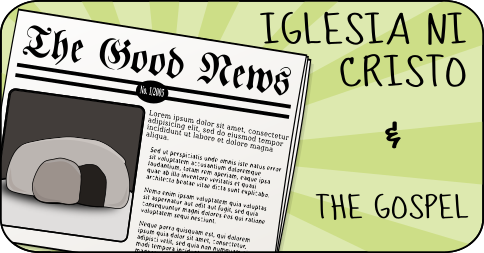 From the Bible we learn the gospel is the "good news". Immediately, we might stop and ask ourselves: What is the good news about? Why do I need hear it and embrace this good news? Is there any bad news?
The bad news is that all are sinners and deserve death.
Romans 3:23 (ESV) - 23 for all have sinned and fall short of the glory of God,
Throughout the Bible, God makes clear there is none good, and all have sinned against God. Amidst the many variations within the human race, this fact is universally consistent. As God is good, righteous, and just, we are answerable to Him for our sinful inclination and a lifetime of disobedience in thought, word, and deed.
God has righteously determined the wages of sin is death (Romans 6:23). None can fully satisfy an infinitely righteous and holy judge and pay the penalty with our own imperfect, unclean lives.
In such a sad situation, can we attempt to look on the bright side or be optimistic? No. Even our "good" deeds are actually dirty, and nothing we do can appease God's just wrath against us.
Paul tells us what the gospel (good news) is in 1 Corinthians 15.
1 Corinthians 15:1-2 (ESV) - 1 Now I would remind you, brothers, of the gospel I preached to you, which you received, in which you stand, 2 and by which you are being saved, if you hold fast to the word I preached to you—unless you believed in vain.
In 1 Corinthians 15, the apostle Paul captures both our mortal problem and God's gracious rescue of those who believe on the Lord Jesus Christ:
1 Corinthians 15:3-4 (ESV) - 3 For I delivered to you as of first importance what I also received: that Christ died for our sins in accordance with the Scriptures, 4 that he was buried, that he was raised on the third day in accordance with the Scriptures
The apostle Paul reminds the Christians in Corinth: "Christ died for our sins," quickly following that declaration with another: "he was buried," further emphasizing Jesus actually died.
Jesus died to save us from death and the wrath of God.
Why did Jesus die? Hundreds of years before, speaking through His prophet, God prophesied Christ's death and revealed the same purpose for it of which Paul reminds the Corinthians (in the previous quote):
Isaiah 53:5 (ESV) - 5 But he was pierced for our transgressions; he was crushed for our iniquities; upon him was the chastisement that brought us peace, and with his wounds we are healed.
Christ not only actually died but died for our sins. He fully satisfied God's righteous standards and bore the wrath of God on our behalf, which encompasses far more than the roman cross. Thus, we have peace with God: forgiveness of sins.
Christ's resurrection ensures our eternal life in Christ and our own resurrection.
Right alongside the death of Christ for our sins, Paul points to the fact Christ was "raised on the third day" - genuinely resurrected. So real and public was Jesus' resurrection and post-resurrection appearances that in the following verses (1 Corinthians 15:5-8) Paul points to various instances and hundreds of witnesses, many of whom could still be found to testify about it at the time.
Christ's resurrection proves Christ's success in his willing sacrifice. Alternatively, Paul carries to its logical conclusion the hypothetical scenario if Christ had not been raised:
1 Corinthians 15:17-18 (ESV) - 17 And if Christ has not been raised, your faith is useless; you are still in your sins. 18 Furthermore, those who have fallen asleep in Christ have also perished.
However, immediately after reiterating our state without a savior, the apostle points to the reality: Christ indeed has risen! Christ's resurrection validates Christ's supremacy over sin and death, which entered with the sin of Adam and Eve.
1 Corinthians 15:21-22 (ESV) - 21 For as by a man came death, by a man has come also the resurrection of the dead. 22 For as in Adam all die, so also in Christ shall all be made alive.
Unlike what Adam earned us (death), Christ wins true life for us. Our relationship with our Maker is restored and eternal life is secured through our union with Christ. "Therefore, just as sin came into the world through one man, and death through sin, and so death spread to all men because all sinned" (Romans 5:12), now Christ's sacrifice and victorious resurrection defeats sin and the penalty for sin: death.
1 Corinthians 15:54-57 (ESV) - 54 When the perishable puts on the imperishable, and the mortal puts on immortality, then shall come to pass the saying that is written:
"Death is swallowed up in victory."
55 "O death, where is your victory?
O death, where is your sting?"
56 The sting of death is sin, and the power of sin is the law. 57 But thanks be to God, who gives us the victory through our Lord Jesus Christ.
Conclusion
On our own, our default state is one of sin and death without forgiveness, but thanks be to God, for Christ died, was buried, and was raised in accordance with the Scriptures.
We are warned already, yet as in Mark 1:15, even the warning itself graciously points to the answer, with Christ himself saying, "The time is fulfilled, and the kingdom of God is at hand; repent and believe in the gospel."
The gospel of Jesus Christ truly is good news of first importance for all. It is the grounds for eternal hope, stemming from an eternal, restored relationship with God through faith in Christ.
Iglesia Ni Cristo members, please ask yourselves how often the INC teaches this gospel of forgiveness through the blood of Christ vs salvation through church membership.